Tuttle Ridge Farms Certified Organic Produce. Weekly baskets 1/2 bushel or Full bushel available for 25.00/40.00 ea. thats a 20-30% savings from buying from big grocery stores. If you eat vegetables and berries, and you enjoy heathly organic foods, then this is for you.  
Here is how it works; You send us an email info@tuttleridgefarms.com or give us a call 203-467-5645 to let us know you want in and where you will be picking up from.  This way we have a basket ready for you at that location.  (locations and times see below) You pay a 10.00 deposit on your basket, which you get back when you return your basket at the end of the season. We then fill your basket with you each week and Yes you get to chose what you want. Together we fill your basket with items from our farm and you get a lot probably much more than the 20-30% saving.  Dont worry if you miss a week becasue you only pay when you pick up.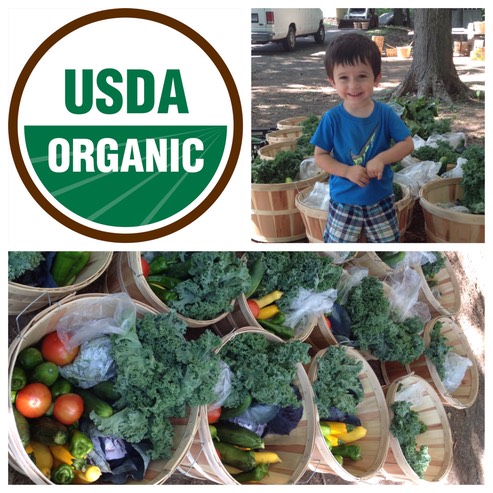 Along with a great weekly savings you also get first choices behind our CSA members for our pickling boxes, Tomato boxes for canning and more.  You get to buy large quantity produce at our wholesale pricing.  
Support local farms and get the freshest, healthier and tasty veggies for your family. Ask about our 1/2 and full bushels of picklers & squash. 203-467-5645 or info@tuttleridgefarms.com. Open all week just call ahead so we can pack your basket fresh for you. A wide variety of vegetables & berries each week.
PIckup locations:
On Tuesdays from 12 noon to 6 pm at our farm located at 185r Tuttle Road,  Durham, CT 06422 look for our sign and driveway with the stone pillars.  Drive up our driveway to the top by the barns and you will see our Tents.  Please drive safely and slow kids are at play and its a working farm.  
Join Us 
June 23rd  (Every Thursdays until Sept. 6th) 3pm - 6pm
Miller's Library
July   (Every Friday until Oct  11pm - 3:30 pm
July 2nd (Every Saturday until Sept. 27th) 9am - 1pm
Every Sunday from June until late Oct. 11am -5pm